---
15W50 or 83212365963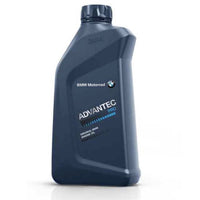 The ADVANTEC PRO and ULTIMATE engine oils were specifically developed for BMW Motorrad high-performance engines. The ADVANTEC name directly reflects the themes of technology and progress while expressing a promise of quality for the customer: Original BMW Motorrad Engine Oils have unique formulas to guarantee long-term performance while retaining a value position to other premium competitors in the market.
Engine oil quality depends largely on its main components: the base oils. They make up approximately 75-90% of engine oil. Original BMW Engine Oils are based on the new patented PurePlus Technology TM, which refines base oils from natural gas instead of crude oil. The result, crystal clear base oils that contain virtually none of the impurities found in crude oils. PurePlus Technology TM marks a breakthrough in how engine oils are formulated to provide enhanced viscosity, reduced friction and lower volatility.
BMW Motorrad Advantec Pro
Premium quality semi-synthetic four-stroke motorcycle oil designed to ensure maximum power, performance, and durability, even under the most demanding riding conditions. BMW Motorrad Advantec Pro SAE 15W50 meets industry certifications (API SM, JASO MA-2), as well as BMW's stringent engine performance tests. Made from a blend including Shell PurePlus base oils with Active Cleansing Technology, this premium oil will keep your engine factory clean, and maximize your engine life.
Recommended for all air-cooled boxers, air/oil-cooled boxers, C600 Sport, C650GT, K100/1100, K1200RS/GT/LT, parallel-twins, and single-cylinder machines.
BMW Motorrad 15W50 Advantec Pro Semi-Synthetic Engine Oil 1L
BMW Original Parts