---
77415A303D9 + 77412472175 + 176 + 77498544517 x 6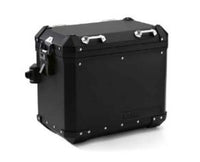 Finally, a kit containing all the required parts and hardware to convert the side case carriers of a water-cooled R1200GS and use the GS Adventure aluminum cases!
Aluminum cases, robust and suitable for off-roading! Capacity: Approx. 36 liters (right) and 44 liters (left). Kit includes everything you need; black mount kit, black panniers, and locks.
WE'LL EVEN KEY YOUR LOCKS FOR FREE! JUST GIVE US A SHOUT AND SEND US YOUR SPARE KEY!
Dimensional Shipping Weight is listed.
BMW R1250GS|R1200GS WC (13-) Aluminum Pannier Kit Black
2 Year Warranty
BMW Original Parts