---
77227727755 + 77228521146 or 77227727756-01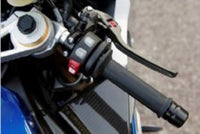 Pricier than the stock lever, but not by that much. Get some added protection in case of a fall.
High-quality CNC-milled aluminum brake lever and clutch lever as replacement for original handlebar levers, to fit the S1000RR.
Material: High-strength aluminum alloy, anodized titanium-colored.
-The anodizing process forms a protective coating that effectively resists corrosion.
-A hinge mechanism built into the handlebar lever reduces the danger of the lever bending or breaking if the motorcycle is dropped (the levers pivot up and can be returned to original position).
-The span between handlebar grip and handlebar lever can be set to suit the rider by turning an adjusting screw.
-Included: Brake lever or clutch lever (with switch lever) including mounting material and installation instructions.
-The handlebar lever was developed on a motorcycle-specific basis, so installation is simple and straightforward (may be installed by customer).
-Logo: BMW Motorrad logotype on leading edge of lever.
Fits 2010-2014, please choose clutch or brake.
BMW S1000RR|HP4 HP Hinged Lever
BMW Original Parts