---
D51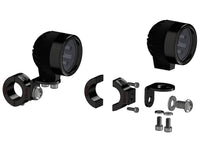 Using the same 2" diameter housing as the Glenda, we have packed 2000 plus lumens into each light while still utilizing very little power. The younger "Twin" to Glenda, Darla is now brighter and has a bit of attitude compared to her sister. Hundreds of mounting options mean these lights can be used on a wide variety of vehicles. This light is surely going to turn heads. Darlas will make you more visible to other drivers while illuminating your route at night. You wont believe how bright she is.
Specifications:
-24 watts consumption each (on high).
-2" diameter.
-High power.
-2000+ lumens each.
-7 ounces.
-Fully dimmable.
-Includes wiring harness.
-Custom tooled optics.
-CNC machined.
-Made in the U.S.A.
Note: This kit is designed for machines with the original multi-function controller (what Clearwater calls the Wonderwheel). While these do come with excellent instructions it is recommended that they be installed by a dealer. Mounts to any 25mm (1") crash bar on water-cooled Boxer machines.
Fits R1250GS, R1250GS ADV, R1200GS WC, R1200GS ADV WC, R1250RT, R1200RT WC. Cleawater offers many, many options... please write tom@sierrabmw.com if you don't see the kit you want listed.
Clearwater Boxer Water-Cooled Darla 25mm Crash Bar Light Kit
Produced by Clearwater Lights of USA