---
10-300BL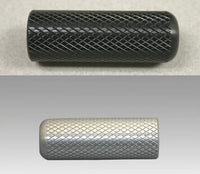 If you find your shift lever to be a bit on the small side, this shifter enlargement is the answer. The sleeve fits tightly over the original rubber pad and gives your bike a sporty appearance.
This shift extension increases the length of the shift lever by more than 3/4". The shift extension is CNC machined from 6061 aluminum then clear anodized.
To install the shift extension you simply push the shift extension over the shift lever. The shift extension has barbs machined on the inside to securely hold it in place.
Fits F650CS, R1100R, R1100RT, R1100RS, R1100GS, R1100S, R1150GS, R1150RT, R1150RS, R1150R, R1200GS/ADV, R1200GS/ADV WC, R1200RT, R1200RT WC, R1200ST, R1200R, R1200R WC, R1200S, R1250RT, K75/100/1100, K1200RS/GT, K1200LT, K1200GT2, K1300GT, K1600B, K1600GA, K1600GT, K1600GTL. Also fits the brake lever of the F650CS, R1100S, R1150R, R1150RS, & R1200ST - Order two for both sides on these applications!
Ilium Works Large Shift Lever Pedal
Produced by Ilium Works of USA