---
RK-28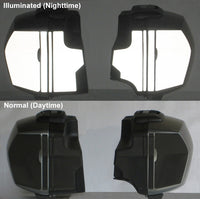 The new BMW R1200RS and R1200R are a super-agile sport tourer and lightweight super-handling sport bike that are as comfortable tackling the twisties as they are out on the open road. Add the saddlebags, and you've got a nimble ride that will get you there on the byway as well as the highway, and carry all your stuff as well. Install this Reflective Kit on the rear of the bags and it'll light up your bike from hip to hip, and really establish your presence on the road.
Our kits are computer cut for a beautifully detailed precision fit. Each kit comes complete with installation instructions, and in most cases an installation diagram to help make sure our product looks great on your bike. We strive to give you more reflective area for less money than other kits.
If you're ready to enhance your safety and "Be Seen" on the road, you're ready for a MotoEquip Reflective Vinyl Kit.
MotoEquip R1250RS|R1200RS WC|R1250R|R1200R WC Saddlebag Reflective Kit
Produced by MotoEquip of USA