---
RG.LP0176BK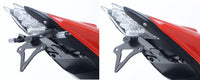 This Tail Tidy is the product that will turn your road going steed into that WSB replica.... or at least make it look a whole lot cooler... this version allows you to remove the turn signal bracket for an even cleaner look!
Engineered for superior strength and weight reduction, each unit is powder coated black for sleek aesthetics and durability. The tail tidy units are easy to fit to the back of the bike enabling you to do away with frumpy OEM holders. These tag holders are designed to relocate the number plate up underneath the rear seat creating a much sleeker look than a traditional mount.
Please Note: The indicator mounts are completely removable (leaving only the license plate holder) in the event that the rider have an integrated brake/indicator unit or find the need to remove the indicators for special circumstances such as track days.
R&G Racing S1000RR|HP4|S1000R Tail Tidy w/Removable Signal Bracket
Produced by R&G Racing of United Kingdom