---
08101697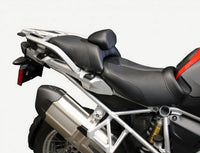 The Adventure TRACK seat is a hybrid design that combines Saddlemen's exclusive elements of a GEL comfort layer and progressive density foam with our patented GEL-Channel saddle design that delivers unparalleled comfort and control. Designed using advanced engineering, this family of seats is for the active and discriminating adventure rider. Each seat contains features that complement the motorcycle, in several cases overcoming the original seats' design challenges:
Cover:
The waterproof WP-suede cover over the rider's cockpit provides the proper amount of grip - an attribute that is essential when the road ahead turns rough. All of Saddlemen's marine-grade covers are unfazed by the elements, detergents or fuel. Water simply wipes away from the center section with a brush of your hand and the cover dries quickly.
Foam & GEL:
Saddlemen's GEL technology resides in each seat and each inch of it exceeds the comfort of three inches of conventional foam. Our progressive density, closed cell foam never absorbs water and has been carefully sculpted and tested for maximum riding performance.
Foundation (Pan, Brackets & More):
Each Adventure TRACK seat is designed to fit better that a stock seat because it is constructed on strong, gel-coated fiberglass pan with plated steel brackets for a superb fit. Our motto of "fitting better than stock" is apparent each time you mount the seat. If you're going on an adventure, your seat can't let you down.
These Adventure TRACK features make sure that these seats are a vital accessory for the discriminating to use when circumnavigating the globe.
-NEW Lumbar Rest feature is adjustable and provides the lower back support which allows for longer riding time.
-Specifically engineered to retain the R1200GS' driver's seat height adjustment feature and the passenger's for & aft adjustment.
-Hybrid seat design combines SaddleGel interior, progressive density foam and a Gel Channel saddle to provide Adventure and Dual Sport riders with unparalleled comfort and control.
-Saddlemen's Gel Channel (GC) technology (patent pending) seats incorporate a split piece of SaddleGel and a channel in the base foam to relieve seating pressure on the perineal area, increase blood flow, thus keeping the rider in the saddle longer.
-Gel Channel seats offer high quality, durable construction and styling that's as unique as it is functional.
-The vinyl and rugged micro-fiber suede cover holds up to hard use while providing a superb blend of comfort and control (certain models feature a rugged gripper style cover).
-Integrated bag/cargo mounting points on the pillion portion of the Adventure-class seat sets make it easy to attach Saddlemen's Adventure PACK luggage or other cargo.
Saddlemen R1200GS WC (13-)|ADV WC (14-) Adventure Track Seat Set
Produced by Saddlemen of USA