---
HPS.07.201.10000/B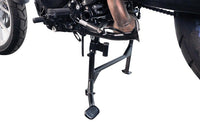 The must-have accessory for adventure-touring! Greatly eases basic chain maintenance, tire changes, parking, and bike cleaning. If your bike has the factory lowered suspension, this centerstand will be easier to lift onto the stand and set the bike at the correct height.
Super-strong steel construction features typical German design and high engineering standards. Superb integration with the factory exhaust and sidestand components. All hardware needed to mount the centerstand included. Typically installs using basic hand tools. No welding, cutting, or drilling of existing frame or body parts required. Tough black powdercoated finish with some gray fittings or hardware as applicable. A double-retention spring is included as a safety feature to prevent the centerstand from contacting pavement if one of the two springs should fail during a ride. Designed to work with OEM components -- we cannot assure fit with aftermarket exhausts or other accessories.
Exclusively for BMW F700GS with BMW lowering suspension kit, dimensional weight listed.
SW-Motech F700GS|F650GS2 Low Centerstand
Produced by SW-Motech of Germany