---
HPS.07.573.10000.B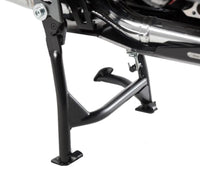 The SW-MOTECH Centerstand is one of the most functional accessories you can add to your motorcycle. German engineered design ensures maximum leverage for easy deployment using minimal effort while stout tubular steel provides stable and secure support. This centerstand allows you to perform basic maintenance while on the go; no need for a shop stand to remove the wheel for tire changes, flat repairs or even cleaning your wheels. Integration with the stock components allows full functionality with the OEM exhaust and sidestand with no modifications. Cornering clearances are not sacrificed and lean angles remain unaffected.
Installing the centerstand is straightforward and bolt-on simple, no drilling, cutting, welding or relocating other components for fitment. Common hand tools are all all you need. The spring keeps the centerstand firmly in place no matter the road or lack thereof. As a safety feature, if one spring should fail the double spring will allow you to continue on your adventure without dragging the centerstand until the failed spring can be replaced. Powder coated for durability and an attractive finish, this versatile centerstand will make you ask yourself how you ever managed to ride without one.
Features:
-High strength tubular steel construction
-German engineered for maximum leverage using minimal effort
-Foot lever allows the use of body weight to enhance ease of deployment
-Aids in performing basic maintenance, tire changes, wheel cleaning and stable parking
-Designed to maintain maximum cornering clearances
-Integrates perfectly with OEM exhaust and sidestand
-Powder coated black finish prevents corrosion and maintains a factory original look
-Bolt-on installation does not require any welding, cutting or drilling
-Rubber travel stop prevents noise vibrations when motorcycle is underway
-Double retention spring maintains a strong hold to keep the centerstand retracted on bumpy roads
-In the event one spring fails, the second retention spring will prevent contact with the road so your ride doesn't have to end
Includes:
-SW-MOTECH Centerstand
-Mounting hardware
-Installation instructions
Note: Does not work on factory low machines, dimensional weight listed.
SW-Motech R1200RS WC (16-on)|R WC (15-on) Centerstand
Produced by SW-Motech of Germany