---
048-5276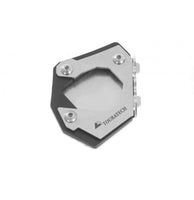 Touratech's Large Sidestand Foot stabilizes your BMW F700GS when parked on the side stand. Whether you find yourself parking in grass, gravel, mud or forest soil, the increased surface area of the Touratech Sidestand Foot dramatically improves the stability of the F700GS, making your off-the-beaten-path parking much easier.
The Touratech Large Sidestand Foot is the choice of travelers the world over because of its solid stainless steel construction, well engineered fit and strong 3-bolt mounting connection with interlocking tabs. The top clamping plate wraps around the kick stand for the most solid connection to the side stand on the BMW F700GS.
The Touratech Large Sidestand Foot installs easily and dramatically improves your parking experience when off pavement with your F700GS.
-Easy Installation
-Guaranteed to improve your parking experience when off pavement
-Made of laser-cut stainless steel and anodized aluminum
-Fits 2013 and newer BMW F700GS kickstand
-Does NOT fit factory lowered model motorcycles
-Made in Germany by Touratech
Touratech F700GS Sidestand Plate
Produced by Touratech of Germany