---
048-5450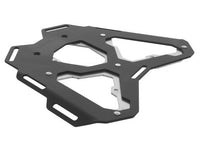 Increase the carrying capacity of your BMW F800GS, F700GS, or F650GS twin with this oversized aluminum and stainless steel luggage rack from Touratech. With 7 lashing slots around the perimeter, the cargo possibilities are endless.
This aluminum rack offers a generous platform that measures 10" long and 14" wide at the front tapering back to 10.5" wide at the rear. To make the rack even sturdier, the aluminum is reinforced by a stainless steel plate, that mounts it onto the back of the motorcycle.
Installation is quick and easy and the kit comes with everything you need to bolt it right onto the F800GS / Adventure, F700GS, or F650GS Twin.
FEATURES
-Laser-cut aluminum construction with stainless steel mounting plate
-Countersunk flange head bolts create a smooth surface
-Black anodized finish
-Approx. 10" long
-Width: 14" at front, 10.5" at rear
-Easy installation
-Made at Touratech factory in Germany
-Fits BMW F800GS, F800GS Adventure, F700GS, and F650GS Twin, 2008 and newer
-Does not work with Hepco Becker Pannier racks
Touratech F800GS|ADV|F700GS|F650GS2 Luggage Rack
Produced by Touratech of Germany