---
045-5834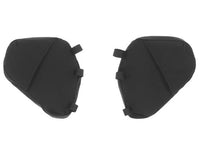 If you have Touratech upper crash bar extensions for your R1200GS Adventure Water Cooled, these high-quality bags are a great way to add extra luggage capacity to your motorcycle while keeping the weight forward on the already rear-heavy bike. These crash bar bags are designed specifically to fit on the Adventure Upper Crash Bar Extensions. for the BMW R1200GS Adventure and come complete with a special mounting system that will hold them secure no matter what the conditions. The high quality materials and stylish design compliment the sporty lines of the liquid cooled BMW boxer.
These crash bar bags can be used in conjunction with any of our touring tank bags for the ultimate in soft luggage capacity.
Our bags are made only out of the highest quality materials. Unlike the other manufacturers who use standard Nylon material, Touratech uses premium Cordura. The certified Cordura fabric, made in Germany, is the same material used in high-end riding suits and is tough and highly abrasion resistant. The Cordura is also treated with a special Teflon coating to protect against dust, moisture, and fading.
NOTE: These bags are only compatible with the Touratech R1200GS ADV WC (14-) Adventure Upper Crash Bar Extensions.
-Fits BMW R1200GS Adventure models only, 2014 and newer, with Touratech upper bar extensions
-Made of Teflon-coated Cordura fabric
-Sold as a pair
-Capacity: about 5 liters each side, 10L total
-Designed specially to only fit Touratech Adventure crash bar extensions, part 045-5165
-Made in Germany by KAHEDO
Touratech R1200GS ADV WC (14-) Upper Crash Bar Extension Bags
Produced by Touratech of Germany