---
Z2355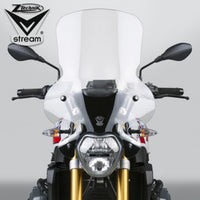 VStream® revolutionizes windscreen performance! The advanced "V" shape and dimensional contours push the wind vortex out and away from the rider's helmet, resulting in a peaceful, quiet environment This improvement is notable for the passenger as well.
The Z2355 is 3.75" taller than the Z2354 for maximum wind protection and long-distance touring comfort.
This windscreen includes a custom designed, super-strong mounting bracket that attaches easily to the OEM windscreen mount points. The bracket gives the larger VStream windscreen solid lateral support and high-speed stability.
Tough 4.5mm FMR coated polycarbonate gives these VStream windscreens outstanding clarity and strength characteristics unmatched by any windscreen maker worldwide. They are 3X more resistant to abrasion than acrylic materials, and have 20X greater crack and impact resistance.
Covered by ZTechnik's 3-Year Warranty against breakage!
Height: 23.88" (60.6cm)
Width: 20.50" (52.0cm)
Dimensional weight listed
ZTechnik R1200R WC (15-) VStream Touring Windshield
Produced by ZTechnik of USA