---
76118350084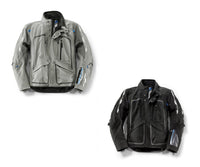 Sale
Whatever the weather, with the BMW EnduroGuard suit, you're ready for anything. This professional jacket offers a maximum of functionality. The specially developed material made of dynatec and ceraspace print ensures top values in abrasion resistance. The 3-layer laminate with c_change membrane ensures perfect interior climate, making the jacket wind and waterproof, and breathable. The abundance of ventilation zips and other functional details also allows every rider to keep cool and calm even in warm temperatures.
Jacket and Pants are sold separately - available in Men's and Women's specific versions.
Color: Men's Grey or Black; Women's Grey only.
BMW Motorcycles EnduroGuard Jackets are sold in US SUIT sizes.
• New generation suit for off-road or touring use, WATERPROOF.
• Highly abrasion-resistant shell of dynatec and dynatec stretch, with a ceraspace layer in some areas, a BMW innovation in cooperation with Schoeller Textil AG
• 3-layer laminate with BMW C-Change Climate Membrane™, wind and waterproof, highly breathable
• NP2 protectors on back, shoulders, elbows, hips and knees (infinitely height-adjustable)
• Coccyx protector, retrofittable
• Extremely good all-round ventilation through many generously sized ventilation options, double front zipper as an AirVent system
• Lining – 100% polyester; Mesh lining in jacket and pants and 3D-Mesh on the back, breathable and elastic
• 8 jacket pockets, 7 of which are waterproof, men's jacket with additional breast pocket, 3 pants pockets, 1 of which is a key holder (ideal for Keyless Ride)
• Sleeves and legs can be opened wide, recessed cuffs provide protection in foul weather
• Wind guards and recessed cuffs in the jacket provides effective protection against wind and rain
• Waterproof storm hood integrated into the collar
• Leather patches on the insides of the knees for a secure grip on the tank when riding off-road
• Snap buttons on the jacket front are concealed to avoid scratching the tank; and hook-and-loop straps allow a variety of width adjustments and ventilation openings
• Reflective print on the jacket
• Attachment zipper: all-around and 40 cm
• Comfort fit - developed with a focus on meeting US riders' needs
• Sizes: Men's Regular, Short, and Long; Women's Regular.
BMW Motorcycles EnduroGuard Jacket
BMW Motorcycles Original Parts